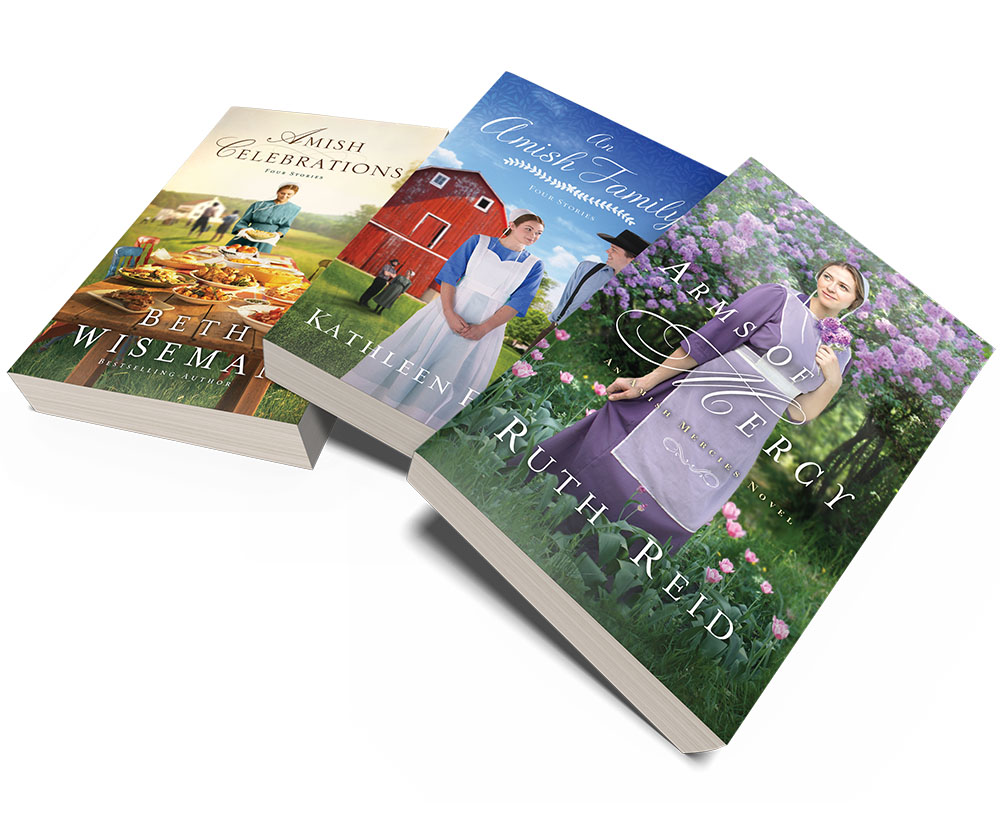 Click here to edit Spacer module.
Sweet Romance. Inspiring Stories. Simple Living.

"Sweet Romance. Inspiring Stories. Simple Living."

ARMS OF MERCY

He lost her once to a rash decision.
He will not lose her again.
On the eve of a new year, Catherine Glick is expecting her bu of five years to propose. Instead, the unexpected arrival of an old boyfriend, Elijah, sends her life spiraling out of control. When a rash decision damages her current relationship, Catherine leaves for Florida to work in her cousin's bakery—anything to flee the source of her shame.
Elijah Graber knows he hurt Catherine when he left their Amish district six years ago. He's determined to explain his actions, even if it means following her to Florida. Perhaps their two-day bus trip together will provide enough time for him to make his case and win her back.
Just when Elijah is starting to tear down the walls Catherine has built, their bus skids on an icy road—and amid the mayhem and tragedy that follow, Catherine disappears. Elijah's friends urge him to prepare for the worst, but Elijah holds on to his hope in God and refuses to give up his search for Catherine. With supernatural nudging from the most unexpected places, Elijah sets out to find the love he once lost—no matter the cost.
Buy Now From These Retailers

AN AMISH FAMILY

In An Amish Family, beloved author of Amish romance, Kathleen Fuller, invites readers into the lives of four Amish families.
Building Trust
Grace Miller and Joel King are in love. They've dated secretly for the past year and when he proposes marriage, Grace eagerly agrees. But when she tells her parents about the wedding, she's shocked when her father tells her she can't marry Joel. Can Grace get to the bottom of her father's animosity toward Joel so they can have the happily ever after she's always dreamed of?
A Heart Full of Love (also in An Amish Cradle)
Ellie's mother hasn't stopped meddling in her personal life since Ellie lost her sight—and she's taken it up a notch now that Ellie's pregnant. When Ellie gives birth to twins, her mother insists on moving in to care for them. But when her mother's behavior becomes unbearable, Ellie is forced to take a stand . . . and finally find out why Mamm can't let go.
Surprised by Love
In a desperate move to evade her match-making mother, Emily Shwartz announces that she's already seeing someone: Reuban Coblentz. The trouble is, Reuban is barely even a friend. Seeing how desperate she is, Reuban plays along. But when the past sneaks up on them, will this temporary arrangement turn into everlasting love?
A Gift for Anne Marie (also in An Amish Second Christmas)
Anne Marie and Nathaniel have been best friends since they were kids. Now things are evolving . . . in ways everyone else predicted long ago. But when her mother suddenly decides to remarry in another state, Anne Marie's new chapter with Nathaniel looks doomed to end before it begins.
Buy Now From These Retailers

AMISH CELEBRATIONS

The Gift of Sisters
Hannah and Elizabeth are fraternal twins approaching their sixteenth birthday—a time when they will be allowed to spread their wings and enjoy their rumschpringe. The sisters couldn't be more different: Hannah is outgoing and beautiful, while Elizabeth is shy and withdrawn. And when newcomer Abraham Stoltzfus arrives in Lancaster County, both women fall head over heels for him, each fighting for his affections in their own ways and driving the sisters to turn on each other. Who will Abraham choose? And will Hannah and Elizabeth reunite after a devastating heartbreak?
A New Beginning
Rebecca and Noah are in love and about to be baptized. But when Noah decides to enjoy one last night of his rumschpringe a few weeks before the ceremony, he does something that causes Rebecca to reconsider his proposal. As Rebecca and Noah navigate the turn in their relationship, Rebecca must learn to forgive Noah or abandon her dreams of marrying him. If Noah won't forgive himself in time for the baptism, his guilt could cause him to run from his love for Rebecca and leave his community behind.
A Perfect Plan (previously published in An Amish Wedding)
Priscilla King has been planning to marry Chester Lapp since she was sixteen years old, and when Chester pops the question on Priscilla's nineteenth birthday, wedding plans begin immediately. But everything begins to fall apart as Chester works to build a house for his new bride, only to have one disaster after another occur. Can true love take this couple through the challenges that threaten their union, or will they begin to doubt that they are on the right path, the one God has chosen for them?
A Christmas Miracle
Mary is twenty-seven years old and already has five young children. Married to her husband at age eighteen, she wasn't quite prepared for motherhood, and exhaustion and frustration are sending her into a downhill spiral as the holidays approach. Too proud and ashamed to ask for help, Mary's situation begins to take a toll on her marriage. But when an elderly man in a red suit and his sidekick elf befriend Mary, showering her with wisdom and advice, she must choose to accept help, learn to cope with her situation, and ultimately find the true meaning of Christmas.
Pre-Order Now From These Retailers

Join the Amish Living Community

Celebrating the simple joy of all things Amish. Join our Facebook community, win free Amish books, and get exclusive content!