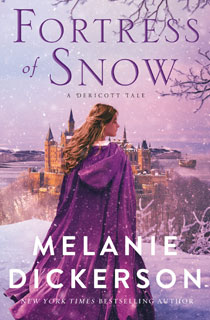 YOUNG ADULT | FANTASY | HISTORICAL
An exciting YA fantasy retelling of the classic Snow Queen fairy tale.
A Dericott Tale #4
Mazy dreams of independence. Sir Berenger longs to play the hero. But in each other, they may find the secret to happily ever after.
Mazelina of Wexcombe has always dreamed of traveling with her father to lands beyond the confining walls of their castle. But his sudden death deprives her of the future she imagined. Abandoned by her eldest brother, Mazy is soon forced to seek help from her beloved brother Sir John at the great estate of Strachleigh.
Her visit leads to a friendship with the dashing and noble Sir Berenger of Dericott. He has notions of rescuing a damsel in distress. But Mazy is brave enough to defend herself—and has proven that her skills in archery and knife throwing rival that of a knight's. So when he is called away to Prussian lands, Sir Berenger looks to distinguish himself in battle.
When Sir Berenger returns, he and Mazy meet again on the streets of London, where she is making a living selling goods in the market. Meanwhile, he has been summoned by the king to receive a reward for his service. But the recognition comes with a price: He must marry a wealthy, titled widow to please the king. But when Mazy begins to suspect treachery, she embarks on a journey to the fortress of snow to warn the brave knight—and secure her own fairy-tale ending.
In this fourth novel set in the Dericott universe, Melanie Dickerson weaves an exciting reimagining of the Snow Queen tale.
"Wow. Another amazing novel. I love the chemistry the characters have and the slow realization of the love Mazy and Sir Berenger share. This book is a part of a series but can be read as a standalone . . . I will recommend this book to friends and family."
—Goodreads Review
"I have really enjoyed this series so far. Fortress of Snow exceeded my expectations. I was instantly hooked and ended up reading late into the night. The characters were well written and It's full of suspense, love and heartache."
—Goodreads Review
"When it comes to happily-ever-afters, Melanie Dickerson is the undisputed queen of fairy-tale romance, and all I can say is—long live the queen!"
—Julie Lessman, award-winning author
MELANIE DICKERSON
A New York Times bestselling author who combines her love for history, adventure, and romance. Her books have won a Christy Award, two Maggie Awards, The National Reader's Choice Award, the Christian Retailing's Best Award, the Book Buyer's Best Award, the Golden Quill, and the Carol Award. She earned her bachelor's degree in special education from The University of Alabama and has taught children and adults in the U.S., Germany, and Ukraine. Now she spends her time writing stories of love and adventure near Huntsville, Alabama.
Connect with Melanie at melaniedickerson.com
Facebook: @MelanieDickersonBooks
Instagram: @melaniedickerson123
Twitter: @melanieauthor
Pinterest: @dickerson3046
Sign up to receive email updates on new releases, Goodreads Giveaways, e-book deals, and more.