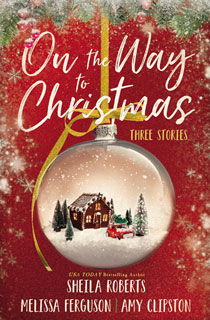 HOLIDAY FICTION | ROMANCE ANTHOLOGIES
A heartwarming collection of three short and sweet romance novellas for the winter holiday season.
Between Thanksgiving and Christmas, anything can happen.
In this glittering and heartwarming collection, three of today's bestselling sweet romance novelists offer up the gift of cheer for the winter holiday season.
A Christmas Do-Over by Sheila Roberts
Darby doesn't want to go home for the holidays, but a career fail sends her slinking back to the small town she always wanted to escape. No one there is especially glad to see the former mean girl—especially not her sister, Erica, or childhood best friend, Gregory. Darby is working hard to be a better person, but has she eaten enough humble pie to make amends?
Dashing Through the Snow by Melissa Ferguson
When Willow's boyfriend of seven years dumps her on the eve of a romantic getaway, she decides to take the two-week train trip on The Christmas Express alone. Hurt as she feels, she can't anticipate how the hilarious rebound ride with conductor Oliver, elf Ian, and aging world adventurer Clarence will heal her heart—and renew her sense of worth.
A Perfectly Splendid Christmas by Amy Clipston
Kacey adores the metropolitan life, but when she gets away to help her sister during a family crisis and run her bakery, she falls in love with former classmate Drew. The problem: he's a small-town man, and she's a big-city woman. Is their love big enough to overcome such a major difference?
Curl up with your favorite holiday drink and sink into three worlds where dreams once thought long-gone are still within reach.
AMY CLIPSTON
Amy Clipston is the award-winning and bestselling author of the Kauffman Amish Bakery, Hearts of the Lancaster Grand Hotel, Amish Heirloom, Amish Homestead, and Amish Marketplace series. Her novels have hit multiple bestseller lists including Christian Book, CBA, and ECPA. Amy holds a degree in communications from Virginia Wesleyan University and works full-time for the city of Charlotte, North Carolina. Amy lives in North Carolina with her husband, two sons, and six spoiled rotten cats. Visit her online at amyclipston.com.
MELISSA FERGUSON
Bestselling author Melissa Ferguson lives in Tennessee, where she enjoys chasing her children and writing romantic comedies full of humor and heart. Her favorite hobby is taking friends and acquaintances and turning them into characters in her books without their knowledge. Connect with her (and prepare for the possibility of becoming her next character) at melissaferguson.com.
SHEILA ROBERTS
USA Today and Publishers Weekly best-selling author Sheila Roberts has seen her books translated into several different languages, included in Readers Digest compilations and made into movies for the Hallmark and Lifetime channels. She's happily married and lives in the Pacific Northwest, Connect with Sheila at sheilasplace.com.
Sign up to receive email updates on new releases, Goodreads Giveaways, e-book deals, and more.